Learning to fly is an adventure that many dream about from childhood.  The Ashtabula County Airport Authority has created the Aviation Education Initiative to help serve the needs of students and the flying community.  Whether your goal is to fly for recreation, to grow your business, take the first steps toward an educational path, or for a career opportunity, flight simulation can assist!
The Modular Flight Deck (MFD) simulator has all-metal construction, dual linked controls, a 225 degree integrated immersive visual system, dynamic control loading (pitch/roll), 430W and 530W GPS units with crossfill capability, audio panel with digital altitude pre-select, annunciator panel, panel backlighting, functional circuit breaker panel, overhead panel, four-way intercom, all new center console and a host of other new features. Combined with a 3-DOF motion base, it is one of the most capable AATD on the market today.
Prior to first time use, a thirty minute no charge check-out for start-up, shut-down, and operation procedures is required.  Credit card information is needed when scheduling online, but billing will not occur until after simulator is used.  All personal information is securely stored by a PCI compliant third-party.  Simulator rental amount is $75/per hour invoiced via Hobbs Time.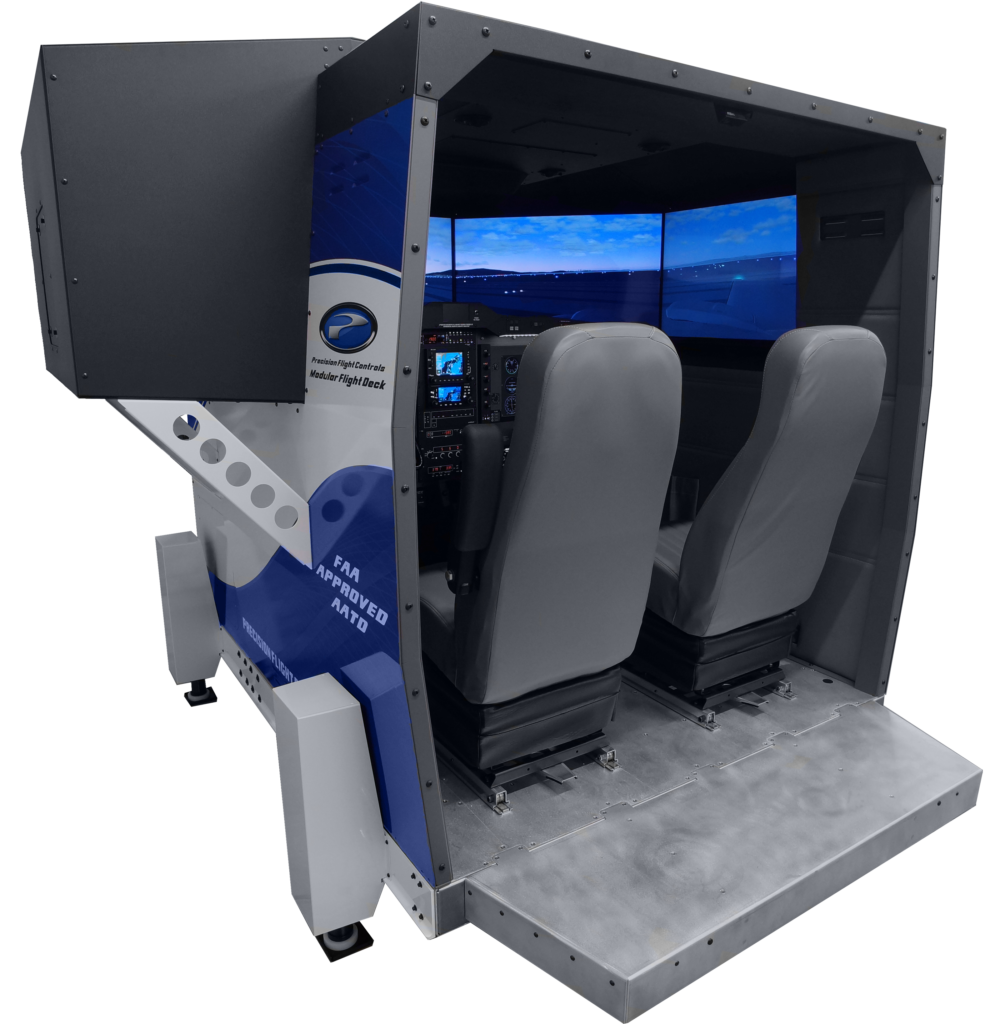 Available Aircrafts:

Cessna 172P ADF
Cessna 172 P
Cessna 172R ADF
Cessna 172R
Cessna 172S ADF
Cessna 172S
Cessna 182-RG Turbo ADF
Cessna 182-RG Turbo
Cessna 182-RG
Cessna 182T
Cessna 182RG ADF
Cessna T182T ADF
Cessna T182T
Cessna 206H
Cessna T206H

Stinson L5 Sentinel
Beech Bonanza A36 ADF
Beech Bonanza A36
Beech Bonanza A36TC ADF
Beech Bonanza A36TC
Beechcraft Baron B58
Beechcraft Baron B58TC
Piper Seminole ADF
Piper Seminole NO FD
Turbo Seminole ADF
Turbo Seminole
Piper Seminole
Seneca V
Reference Documents:
MDF Standard Instrument Piston Startup Shutdown Checklist
MDF Standard Instrument Turbo Prop Startup Shutdown Checklist