Jet A Fuel Farm Maintenance Project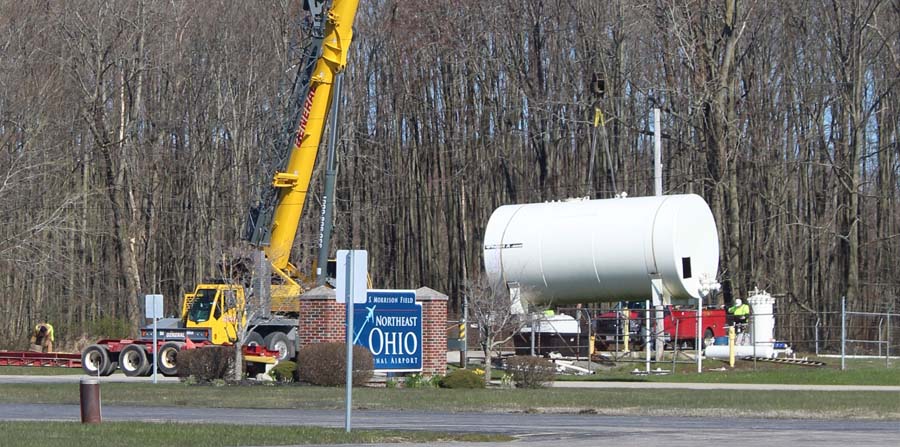 Northeast Ohio Regional Airport has recently completed a $225,000 project to ensure reliability as a supplier of quality Jet A fuel to tenants, transient clients, the US Coast Guard and a potential Helicopter Emergency Medical Service (HEMS) provider.
The Ashtabula County Airport Authority (ACAA), had been actively planning to reconfigure the 100 LL Avgas fuel system from underground storage, to an above ground, skid mounted system. While the current system is safe and fully compliant with environmental regulations, the above ground set up is preferred. The approximate cost of the project was projected to be $150,000.
In the meantime, however, the ACAA became aware on an airport that experienced a Jet A tank failure. This incident prompted a professional inspection of our Jet A storage tank and system by Mr. Bill Morgan of Collins Equipment Corporation. His analysis revealed that our 10,000-gallon, single wall tank was not in compliance to the fire code and presented a significant environmental liability if the tank were to develop a leak. In addition, various components were outdated and/or replacement parts were not available. Based upon the inspection report, the ACAA altered course from the 100LL storage tank to the replacement of the Jet A storage system.
The ACAA and Collins Equipment participates in the Ohio Department of Administrative Services (DAS) Cooperative Purchasing Program. This allowed Collins to provide a $203,328.00 quotation for the project based on their labor and material cost agreement with the DAS. The ACAA's participation in the program allowed the Authority to avoid the engineering and competitive bidding of the project which would have been a significant additional cost.
The ACAA Board of Trustees approved the project, contingent upon obtaining private support, on 12/12/19.
The ACAA solicited private donations to support both the Collins quotation and the engineering oversight of the project by Ms. Nicole Bryan of Michael Baker International at a Not to Exceed cost of $21,790.47 for a total project cost of $225,118.47. Donors included the Robert S. Morrison Foundation, $75,000, the Cleveland Foundation/Ashtabula County Aviation Trust, $50,000, Dwight and Susan Bowden, $75,000 and Fidelity Charitable Grant, $25,118.47.
On 05/12/2020, 5,000 gallons of Jet A was loaded into the new system for a soak test to confirm that the system was free of contaminants. Fuel samples were delivered to the Pittsburgh testing laboratory on 05/18/2020 by Mr. Mark Haraseviat of Purvis Brothers.  Passing test results were issued later that day.
The Ashtabula County Airport Authority Board of Trustees expresses their sincere appreciation to the private donors, the professional service provider, and vendors who allowed this significant project to become a reality.